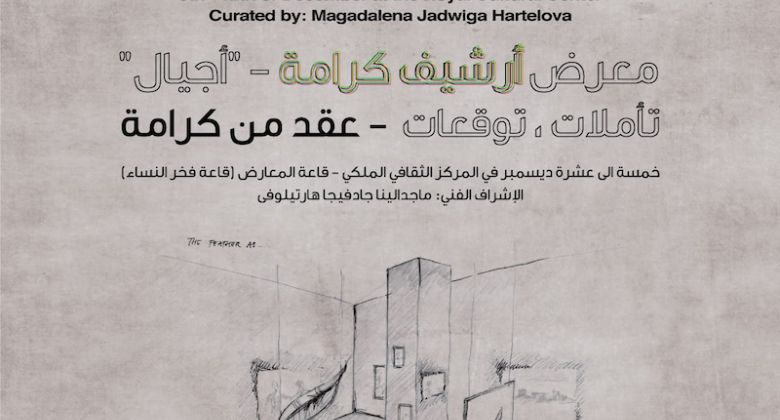 Conscience of Art - Karama Archive


Every year, Karama has created an art exhibition as part of its program, to support and enhance the role of art as a tool for advocacy and social change. As a tribute to Karama's "Generations", the 10th edition includes an exhibition of archival material. It will show Karama's journey in the past 10 years, as well as, offer a platform for conversation about the future.
The exhibition, titled Generations: Reflections, Projections - A Decade of Karama and Beyond. It will present an archival compilation of publications, posters, trailers, stills from featured films, our designer feather awards, and mementos of past art installations.
The exhibition will allow the viewer to experience the process of monumental change in time and space. Its dazzling kaleidoscope of the past, showing the complex journey of the Festival, will serve as a starting point for a reflective dialogue about the future. The future of this wave of change, that our whole region is experiencing. A rising wave, that has just begun to gain momentum. In a region where change has become the only truth, where dynamism is the compass of our new reality; the exhibition will be, fittingly, an ever-changing mosaic, never exactly the same. It is also an ode to the magic of cinema, the moving image.
About the curator:
Magdalena Jadwiga Härtelova, M.A. (*1991) is a curator and artist currently working between Berlin, Prague, and the Bay Area (U.S.A). In addition to her independent work, she is a curator at the Gallery of Academy of Fine Arts in Prague. In her curatorial practice, she focuses on socially and politically engaged art, new media, and performance. Härtelova received her MA degree in Curatorial Practice program at California College of the Arts, where she wrote her thesis on "Curating and the Concept of Intersectional Care." She has been awarded the Merit and President's International Students Scholarships. Her curatorial projects have been displayed in Anchorage, Berlin, Budapest, Oakland, Prague, Rome, San Francisco, Vienna, Warsaw, and more. Her work has been exhibited in galleries in the Bay Area, Berlin, Prague, and Anchorage.