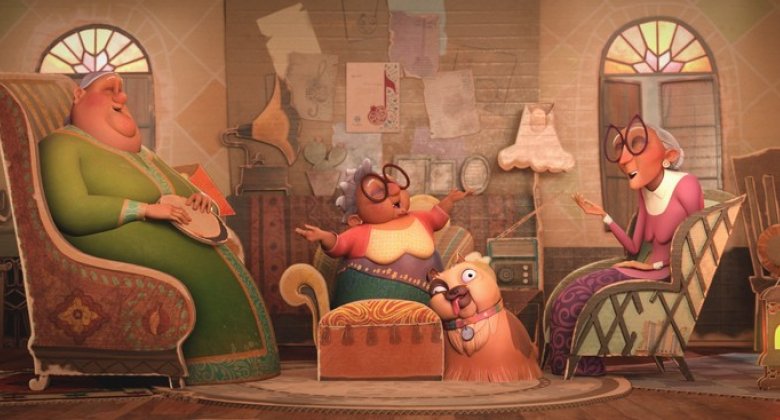 8 min | France | 2021
Synopsis:
In a small village ruled by a lot of ridiculous laws, three old ladies live together with their dog. In this village, women are not allowed to sing unless they are three, nor are they allowed to own a dog. As the three old ladies are rehearsing for their utmost performance, one has an untimely death and the two remaining ladies and their forbidden dog need to find a third singer in time to be able to perform and not break the law.
---
Director: Mehrnaz Abdollahinia, Feben Elias Woldehawariat, Razahk Issaka, Celeste Jamneck, Yi Liu
Bios:
Mehrnaz Abdollahinia is an experienced 3d animator with lots of fantastic stories to tell and is passionate about bringing his stories to the animation world.
Feben Elias Woldehawariat is inspired and determined to fulfill her dreams of becoming a storyteller and a visual artist.
Razahk Issaka is intrinsically motivated & dedicated to his work, has an eye for details, a spine for out of the box problem-solving and a drive to see things through to completion.
Celeste Jamneck is an aspiring Director and experienced Character Artist in both 2D and 3D, and her main goal is to create characters with story and stories with character.
Yi Liu loves painting and design. She enjoys capturing unique moments and translating them to her paintings.
Writers: Mehrnaz Abdollahinia, Feben Elias Woldehawariat, Razahk Issaka, Celeste Jamneck, Yi Liu | Animation: Mehrnaz Abdollahinia, Yi Liu | Editing: Mehrnaz Abdollahinia | Sound: Laurent CHASSAIGNE | Music: Antoine Duchene | Language: English | Subtitles: Arabic